F1 star to open Infiniti exhibition in London
19/01/2015 17:15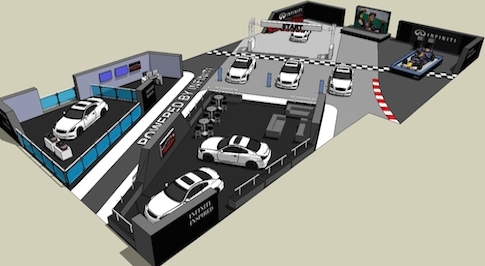 F1 star to open Infiniti exhibition in London
Infiniti Red Bull Racing F1 driver Daniel Ricciardo - and his race winning RB10 - will be the guest of honour at a special 'Powered by Infiniti' public display in London.
The exhibition has been organised to celebrate the opening of the premium brand's new stores at Westfield Shopping Centres in London, Shepherd's Bush and Stratford City.
The F1 ace will officially open the five-day display on Wednesday 28th January at Westfield London - one of Britain's highest profile retail environments.
Infiniti vice president for Europe, the Middle East and Africa, François Goupil de Bouillé, said: "Infiniti is one of the fastest growing premium brands in the UK and in Europe, and Daniel Ricciardo is a rising star in F1. This is a great match. We are looking forward to presenting him at Westfield."
The event host an exclusive Infiniti design area to showcase the brand's UK-centred design capabilities. Design elements from the drawing board, to clay modelling, through to concept build will be on display, alongside a model of the Q80 Inspiration.
Infiniti will also display the fully-liveried 'Infiniti Support Our Paras Racing' Q50 ahead of its British Touring Car Championship debut this year, and two of the newest Infiniti models the QX70 Design and the latest generation Q70.