Infiniti continues strong sales pace
14/04/2015 09:47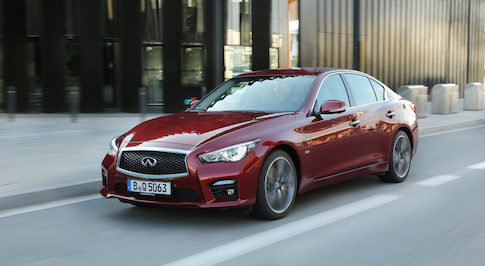 Infiniti continues strong sales pace
The growth strategy at Infiniti continues to deliver impressive sales results as it sees another record quarter. In the first quarter of 2015 more than 52,000 models were sold worldwide, an increase of 12 per cent from 2014 - the best quarter in the company's sales history.
Each of Infiniti's geographic regions saw positive growth in quarter one. In the U.S. sales reached 33,800 vehicles, an 8 per cent increase on Q1 2014. In its biggest growth market, China, Infiniti saw an increase of 28 per cent on last year, having sold nearly 7,900 vehicles.
Europe, Middle East and Africa sales figures rose 18 per cent to around 6,400 vehicles, while the Asia and Oceania region increased by 31 per cent to approximately 1,400 vehicles. Sales in the highly competitive Western Europe market increased by 92 per cent to over 2000 vehicles, a new company record for the region. Australia, Mexico and South Africa, among other regions, also saw record numbers for the quarter.
President of Infiniti Motor Company Limited, Ronald Kreuger, said: "These results are a strong proof point that Infiniti is on a successful growth path, establishing itself as one of the key premium brands globally. We have secured strong momentum and a strong foundation for the coming fiscal year."
This growth in sales comes thanks to Infiniti's successful product range. The company's top-selling Q50 sports saloon model grew by over 50 per cent on the previous year and its volume increased in every region worldwide. The Q70 saw a 50 per cent growth in China and the Americas. One of the company's top SUVs, the QX80 also grew 21 per cent. Infiniti launched a revamped version of the QX50 in China last month, which was presented for the US at the recent New York auto show and will roll out into other markets thereafter.
"We are pleased to see that Infiniti has made significant progress, transforming itself into a global premium automotive brand," said Krueger. "We are confident that we will achieve another year of strong performance."
Connor Mackay
by: Becca Chaplin