Infiniti offers the engineering job of a lifetime
12/03/2015 16:13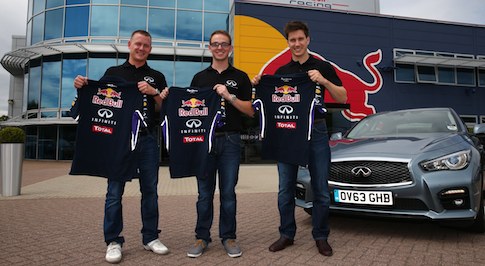 Infiniti offers the engineering job of a lifetime
Infiniti has announced the launch of its 2015 Infiniti Performance Engineering Academy, where University engineering students across Europe have the opportunity to land their dream job in Formula One.
Now in its second year, the one-of-a-kind global search for the world's best up-and-coming engineering undergraduates offers the unique opportunity to work with four-time World Championship-winning team Infiniti Red Bull Racing as well as for Infiniti itself.
"Last year's pilot program uncovered three outstanding candidates including one from the UK," said Francois Goupil De Bouille, Vice President, Infiniti EMEA. "This year, we are taking it a step further by increasing the number of global places to five and guaranteeing at least one place goes to a student from Europe. In an industry that is notoriously difficult to get into, this is an unprecedented chance for talented young engineers."
After a comprehensive assessment to identify the best applications, a series of regional finals will recruit winners not only from Europe but also Russia, China, Saudi Arabia and the United States, with each receiving a 12-month dream internship split between Infiniti's European Technical Centre and Infiniti Red Bull Racing, both in the UK, complete with full salary. This will see them working on key road car projects for Infiniti and for the race team in various areas of engineering.
Candidates will go through a three stage process, starting by submitting their CVs and a video answering the question 'Why do I deserve this opportunity?' This will be followed by a Skype interview and then an in-depth profile analysis by Infiniti and Infiniti Red Bull Racing senior management. Ten will then be selected in each market to attend their regional finals to complete a series of engineering and teamwork tasks, judged by an expert panel from Infiniti and Infiniti Red Bull Racing. One winner form each region will go on to secure the 12-month placement.
For more information on the Infiniti Performance Engineering Academy, or to apply, visit http://academy.infiniti.com
by: Becca Chaplin