Infiniti Q30 production officially begins in Sunderland
03/12/2015 17:13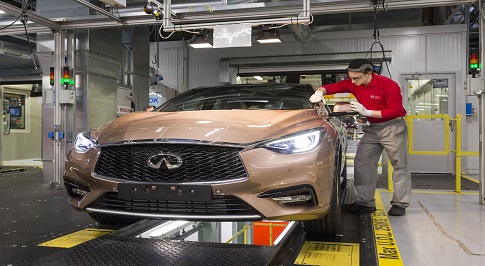 Infiniti Q30 production officially begins in Sunderland
Infiniti has begun the production run of its Q30 in Sunderland today, with the first car officially rolling off the assembly line.
This follows the manufacturer's £250m investment in brand-new facilities at the northern plant, which has created 300 new jobs.
The Q30 has already passed an important milestone by becoming the first Infiniti to be manufactured in Europe. As part of its global growth plans, Infiniti vehicles are now built in five plants in four countries on three continents.
Trevor Mann, Chief Performance Officer of Nissan Motor Corporation, has today joined Roland Krueger, President of Infiniti Motor Company, and the 6,700-strong workforce in Sunderland to mark this special occasion.
Mann says: "Today we are beginning an exciting new chapter in the Infiniti story, and I can't think of a better place to start than here at Nissan's Sunderland plant. Over its 30 year history, Sunderland has grown into the UK's largest automotive plant. It is renowned for delivering high-quality, top-selling vehicles, and is regarded as a world-class production facility with a highly skilled and dedicated work force.
"To prepare for Q30 production, we invested 250-million pounds here in the UK. This is creating more than 1,000 new jobs in the UK automotive industry. Q30 production is further strengthening our premium vehicle manufacturing capability in Sunderland, and exports to global markets such as China and North America signal the next phase in the expansion of Infiniti and a new chapter for our UK plant."
by: Oliver Harry