Infiniti Q50 adds a new more efficient engine
02/01/2015 09:00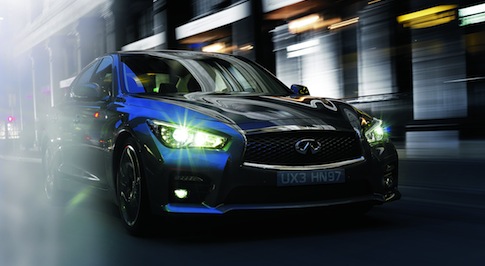 Infiniti Q50 adds a new more efficient engine
The Q50 is an alternative option for those who want to be a bit different, plus it comes with enought extremely clever tech to keep any gadget man happy. Infiniti's latest engine for its stylish Q50 sports saloon is a new 2.0-litre petrol engine, designed to bring even better fuel economy to the range.
This four-cylinder turbocharged petrol engine is equipped with 208bhp and 350Nm of torque. The fuel economy figures (43.5mpg combined) due to the turbocharger and direct fuel injection.
As well as being economical, the engine provides a refined ride with a sporty feel and the cabin is suitably sumptuous.
The Q50 is packed with clever features, such as a clever 'zero-lift aerodynamics system', which manages the airflow to ensure the car is balanced when in motion while double-piston shock absorbers continually adjust damping forces to maintain ride quality. Infiniti's Intouch software integrates your digital life, including apps, using a touch-screen system. It offers a three-dimensional view and a simple interface.
Pretty much every part of the driving experience can be adjusted to suit the preferences of the person behind the wheel thanks to the car's Drive Mode Selector system. The system is very easy to find your way around.
by: Becca Chaplin