Infiniti reveals future generation sports coupe
06/01/2015 11:15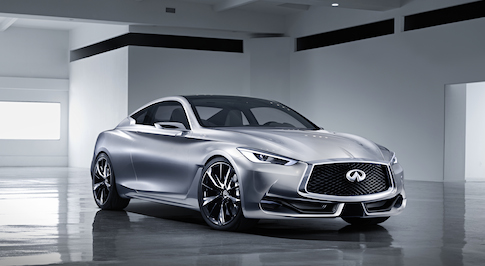 Infiniti reveals future generation sports coupe
Infiniti has revealed a striking two-door sports coupe concept ahead of the 2015 North American International Auto Show (NAIAS) in Detroit.
The Q60 Concept is the luxury brand's vision of a premium sports coupe, and is poised to entice drivers with its sharp contours and handcrafted interior, while hinting at powerful performance figures to match.
The sports coupe, which draws inspiration from the latest Infiniti models and Formula One, sits low to the tarmac and wide in a road-hugging stance. Derived from jet turbine blades, its custom 21-inch alloy wheels consist of a combination of black and chrome spokes stretching across to the edge of the wheel.
The Q60's low roofline, hand-stitched quilted leather seats and carbon fibre accents resemble the full size Q80 Inspiration, while the aerodynamic gills behind the front wheel arches are inherited from the Q50 Eau Rouge sports saloon concept.
"The Q80 Inspiration was an indication of Infiniti's future design language," said Alfonso Albaisa, Infiniti executive design director. "The Q60 Concept is the next step in the journey.
"The sweeping lines of the Q80 Inspiration gave the Q60 Concept its coupe silhouette and looks while the Formula One-inspired touches from the Q50 Eau Rouge endowed the coupe with its sports personality."
As a foreshadowing of the next generation of Infiniti's premium sports coupe, the designers have also made the Q60 Concept a genuine '2+2' coupe by giving rear passengers more legroom through the use of genuine sport seats.
The Q60 Concept will be available to view in the metal at Infiniti's 2015 NAIAS press conference at 8:10am on Tuesday, January 13th.