Infiniti 'Support Our Paras' BTCC team unveils new livery at Autosport International
09/01/2015 10:27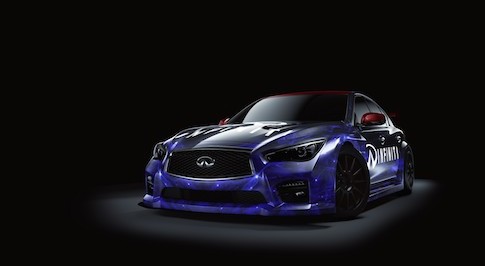 Infiniti 'Support Our Paras' BTCC team unveils new livery at Autosport International
The 'Infiniti Support Our Paras Racing' team, which is set to compete in the Dunlop British Touring Car Championship (BTCC) this season, will unveil a new livery for its two Next Generation Touring Car (NGTC) Q50 race cars at the Autosport International Show in Birmingham this week.
The new livery, which will be on show on the Dunlop stand, has been designed by Infiniti's in-house design team in Paddington, London, further enhancing the ongoing partnership between Infiniti and the Mallory Park-based team, which will employ injured ex-Paratroopers to prepare both race cars.
Infiniti design director, Simon Cox, from Infiniti Design London, said: "The new Q50 race car livery was developed to contrast against the traditional branding schemes normally associated with the BTCC grid. However, it still retains a high level of visibility, reflecting both the dynamic qualities of the Infiniti brand along with the performance and striking contours of the Q50 road car. The look is intended to illustrate the provocative nature of the Infiniti brand, combining dynamic light pulses which form on contact with the cars' sculptural surfaces."
Building on its launch outside London's Guildhall 10 weeks ago, the not-for-profit team will help raise awareness for Support Our Paras - the newly-formed charity for The Parachute Regiment and 100% of profits will go towards the cause. Drivers Derek Palmer Jnr and Richard Hawken will pilot the two Infiniti Support Our Paras Racing NGTC Infiniti Q50s on the BTCC grid.
Team principal, Derek Palmer Snr, added: "We're at a very advanced stage in the build programme of both cars and the amount of work which has been going on behind the scenes is impressive."
The four-day Autosport International Show takes place at the NEC in Birmingham from Thursday, January 8, to Sunday, January 11.