Infiniti Support Our Paras makes BTCC debut at Brands Hatch
07/04/2015 14:34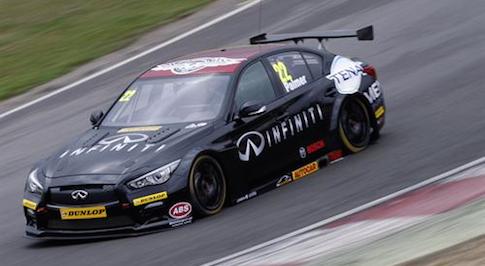 Infiniti Support Our Paras makes BTCC debut at Brands Hatch
The Infiniti Support Our Paras Racing team made its debut in the British Touring Car Championship (BTCC) at Brands Hatch this weekend.
The Infiniti Q50 race cars are prepared by injured ex-servicemen from the Parachute Regiment and all team profits are donated to the official Regiment charity, Support Our Paras.
Just four days after the car completed its first test at the team's headquarters at Mallory Park, the crew exceeded their goals for the first triple-header at Brands Hatch.
Derek Palmer, the 28-year-old Scot, was charged with driving the team's first car at the Kent circuit, with the second car set to make its debut at the next round at Donington Park on April 18/19 in the hands of Richard Hawken.
Supported by a number of serving members of the Parachute Regiment, Palmer overcame an early power steering problem to bag two top 20 finishes.
He said: "We've exceeded our expectations this weekend. No one should underestimate the achievement the Paras have delivered. These are guys who were injured serving our country, and in the space of a few months have built a BTCC racer capable of competing successfully in Britain's top championship. Of course it's been a challenge, but it's not in their nature to fail."
Palmer's performance - finishing 20th in Race 2 and 18th in the day's finale - was praised by ex-Para team leader Darren Fuller: "For all injured Paras who form part of the team, the weekend's been absolutely fantastic. It's been a massive achievement just to get here with one car to race in the ultra-competitive BTCC. And we'll certainly have the second car on the grid in a fortnight at Donington.
"The lads are doing it for the charity and what we actually want to do is raise awareness and funds for that charity, and today was the first step towards achieving that."