Infiniti Support Our Paras Racing team learns from Infiniti Red Bull Racing F1 masters
20/03/2015 10:28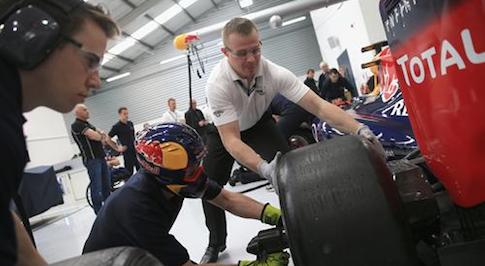 Infiniti Support Our Paras Racing team learns from Infiniti Red Bull Racing F1 masters
The new British Touring Car Championship (BTCC) team, Infiniti Support Our Paras Racing (ISOPR), spent the day with motorsport masters Infiniti Red Bull Racing F1 at its factory in Milton Keynes.
In preparation for the season opener at the beginning of April at Brands Hatch, the new touring car team visited Milton Keynes for a glimpse at how Infiniti Red Bull Racing prepares for the F1 season and individual races.
Based at Mallory Park in Leicestershire, team ISOPR's program for the year involves training its rookie crew which includes injured paratroopers to run a professional motorsport team from mechanical jobs and logistics to forward planning.
Infiniti Red Bull Racing team manager Jonathan Wheatley said: "It is great seeing the motivation of the BTCC Infiniti Support Our Paras Racing team and how they work together. Hopefully the day has given them a good insight into the Infiniti Red Bull Racing factory and how we go about starting the season."
Derek Palmer Sr, Infiniti Support Our Paras Racing team principal, added: "This has been a once-in-a-lifetime opportunity not just for the Paras, but for any team on the BTCC grid. It's clear our boys have benefited a huge amount from the time they've spent working with the Infiniti Red Bull Racing crew, whom I need to thank for giving us this unique opportunity."
The BTCC team, who will be driving Infiniti Q50s in the Championship, have been entered with the aim of raising awareness and funds for Support Our Paras, the official charity of the British Army's Parachute Regiment. The team will employ injured paratroopers to prepare the cars, and have a long-term goal of eventually training an injured paratrooper to compete behind the wheel.