Infiniti's Direct Adaptive Steering System awarded again
20/11/2014 16:10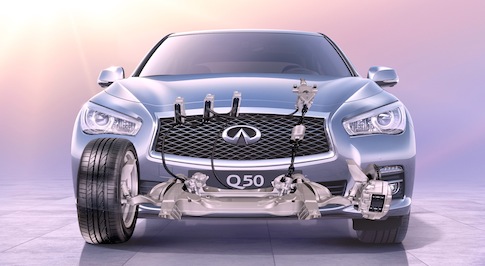 Infiniti's Direct Adaptive Steering System awarded again
Infiniti's revolutionary Direct Adaptive Steering System, first introduced on the new Infiniti Q50 Sports Saloon, has been acknowledged in Japan as one of the year's foremost innovations.
The independent not-for-profit Automotive Researchers' and Journalists' Conference of Japan (RJC) has just honoured Direct Adaptive Steering (DAS), the world-first steer-by-wire system in a production vehicle, with the Technology of the Year Award 2014-2015.
RJC is an accredited group of important Japanese automotive professionals which singles out significant industry milestones, while it also collaborates regularly with the Japanese internal ministries in a non-partisan advisory capacity.
The RJC selection committee explained the reason behind DAS winning the award: "Direct Adaptive Steering is a world's first in next-generation steering technology. The DAS system electronically transmits the driver's inputs to the car's wheels through a steering sensor integrated with a compact motor without relying on a steering shaft.
"It also reduces unnecessary feedback from road surfaces, which helps achieve increased stability. This new technology provides handling performance with a higher level of comfort and safety and a faster, more precise steering response. In addition to its innovative performance, we recognise this technology is an important step forward for the future of autonomous driving."
This latest award builds upon multiple other technology recognitions that DAS has received so far, including "Best Technology Innovation 2014" from the Automobile Journalist Association of Canada and a "Grand Award" for the "Best of What's New" category from Popular Science magazine in the US.
Separately adding another accolade to a long list the Infiniti Q50 has been named "Best Luxury Sports Sedan 2014" by Autoshow TV Mexico. This renowned Mexican TV show specifically recognised the Infiniti Q50's exterior and interior design, quality, performance, and user experience.
This recognition increases the list of awards that the Q50 has received from well-respected organizations around the world since its launch in 2013. The Infiniti Q50 has been recognised in particular for its rich and innovative technology features such as Direct Adaptive Steering, Predictive Forward Collision Warning, and its overall Safety Shield system.
by: Becca Chaplin