Brand New QX30 Model Unveiled
16/02/2016 14:15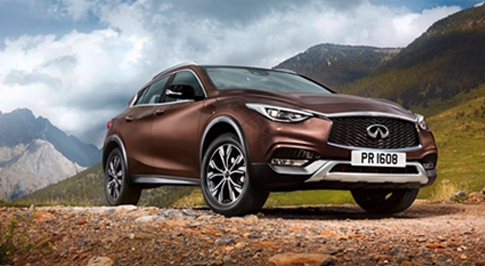 Brand New QX30 Model Unveiled
Earlier this week the first details of the new Infiniti QX30 crossover were released, highlighting the car ahead of its European launch.
The QX30, is designed to appeal to a new generation of buyers who are increasingly interested in the premium crossover segment. Bridging the gap between a premium compact vehicle and a larger crossover, the QX30 is a "category-defying" model that is set to stand out to Generations X and Y, who value a vehicle that acts as an extension of the self rather than a status symbol.
Housing a wide range of unique design, comfort, safety, and convenience features, the QX30 balances a purposeful crossover element alongside the unique appeal that consumers have come to expect of an Infiniti vehicle. With intelligent all-wheel drive, a high-stability drivetrain, and elevated ride height, the QX30 continues the well-established luxury of its Q30 with an added utilitarian and technological edge.
With expressive design, seamless integration of Infiniti's values, and an individual urban appeal, the vehicle has all the requisite elements needed for the car to be a success in the premium arena.
The QX30 is set to have its first European reveal at the Geneva motor show on 1st March, and will be manufactured at brand new facilities in Sunderland as part of the first Infiniti production in Europe.