Infiniti Ends Record-Breaking Sales Year With Best Month
28/01/2016 13:37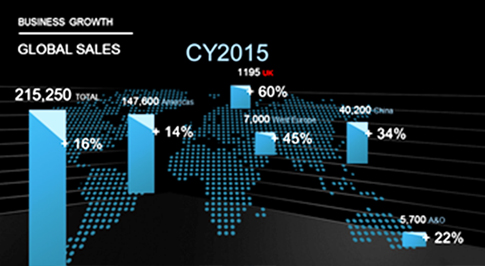 Infiniti Ends Record-Breaking Sales Year With Best Month
Infiniti had a record-breaking year in 2015 with global sales of 215,250 vehicles, up 16% from the previous year.
The Japanese carmaker ended 2015 with the best month in its history, with more than 23,100 vehicles sold in December, representing a 17% increase compared to December a year ago.
Infiniti has now had 16 consecutive months of year-on-year growth across the globe.
In the UK, Infiniti sales went up by 60.2% to 1,195 cars in 2015 and in Germany by 4% to 1057.
Meanwhile in Western Europe, Infiniti sold an all-time high 7,000 vehicles in 2015, an increase of 45% from 2014.
In December, 700 vehicles were sold in Western Europe, an increase of 16% compared to December 2014.
1,219 customers bought a new Infiniti in 2015 in France, a rise of 70.1% compared to 2014.
In the Middle East, more than 8,300 Infiniti vehicles were sold in 2015, up 18% from 2014, making Infiniti one of the fastest growing brands in the region.