Infiniti Exhibits "Car-Art" at Westfield London
10/02/2016 10:14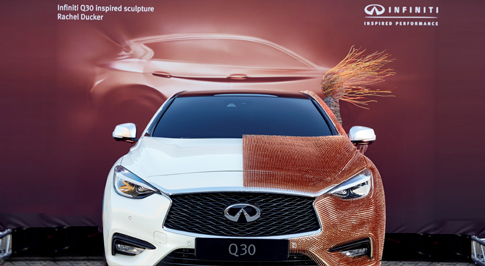 Infiniti Exhibits "Car-Art" at Westfield London
Following a successful launch at the recent London Art Fair, the Rachel Ducker Insppired Infiniti Q30 is set to be displayed publicly at Westfield London.
The Q30, which features over 48,000 copper tacks covering its bodywork and steel figures courtesy of Rachel Ducker, will go on display in the Shepherds Bush shopping centre surrounded by a fleet of untouched UK built Q30 models.
The display is also set to feature exhibits taken over from the London Art Fair, including photographic work produced by several social media influencers during the recent Q30 test drive in Lisbon. Alongside this will be images from professional photographers Josh Rubin (@coolhunting) and Michael Shulz (@Berlinstagram), and several other vehicles from the Infiniti range, including the brand new QX70 Ultimate.
The display opens Monday 8th February and closes Sunday 14th, is located in the Atrium area of the shopping centre, and is free to view.