Infiniti Newcastle takes best customer experience award
19/05/2017 10:44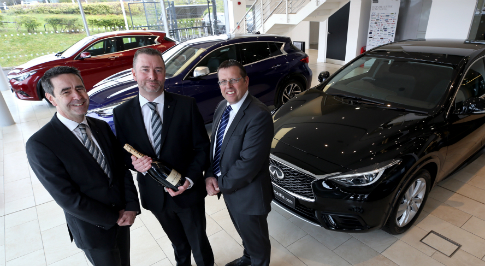 Infiniti Newcastle takes best customer experience award
INFINITI Customer Experience Award recognises centres in the UK and across Europe that are most dedicated and committed in providing the highest standard and bespoke service to INFINITI customers.
This year the team at INFINITI Centre Newcastle, part of Vertu Motor PLC and led by Centre Manager Jeff Aynsley, picked up the award from Barry Beeston, Regional Director for INFINITI at a recent ceremony held at the Centre.
Beeston commented "Infiniti places customer experience as a top priority from the moment they enter the unique showroom environment, how they are greeted on arrival and how they are handled by the sales teams. To win this award takes a lot of commitment and desire to be the best and I am pleased to see that Jeff and the team here in Newcastle, located so close to the Sunderland factory, has done so well, not just with the highest score in the UK but also coming in the top five for the whole of Europe."
Also present at the ceremony, recognising the importance of winning the award, was Vertu Motors plc Chief Operating Officer David Crane who said: "The continued success of the Infiniti Centre Newcastle is evidence that Vertu Motors' emphasis on providing customers with a personable, but professional and knowledgeable service is paying off. We are now reaping the rewards of a targeted training programme, which focusses on providing colleagues with extensive knowledge of the Infinti range and ensuring they know how to deal with any customers.
"The dealership is continuing to grow as more and more people turn to Infiniti as an option when looking for a well-built premium vehicle. Infiniti remains the fastest growing premium brand in the UK and I'm proud of Vertu's role in that success."
Every three months INFINITI evaluates not only the commercial performance of every Centre and its compliance of the brands own showroom standard, but also its sales force's skills. Sales Consultants are assessed both on their ability to adopt a consistent attitude with a Premium brand positioning, and on their responsiveness and ability to meet customer needs, making each test drive a unique and personalised experience. They are also judged on their expertise: knowledge of the Infiniti range and handling of the car. Each centre is then recognised for its performance with the overall accumulation of scores throughout the year taking the main prize.
Jeff Aynsley, Centre Manager for Newcastle, thanked his team for their hard work saying: "I'm very proud that the dealership has secured this accolade. The team here works hard to ensure they have an intimate knowledge of every vehicle in the Infiniti range so that they can answer any queries customers may have."