Infiniti QX30 makes its debut in Geneva
03/03/2015 16:13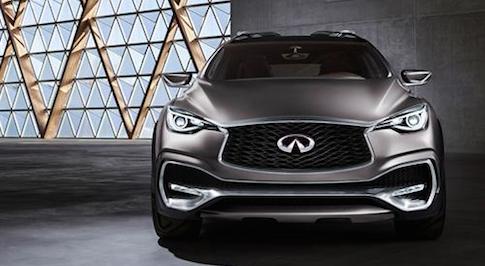 Infiniti QX30 makes its debut in Geneva
Infiniti has revealed the stylish QX30 concept at the Geneva Motor Show, designed to inspire a new premium compact crossover.
The QX30 concept previews Infiniti's plans to expand into the global premium compact segment, which is forecast for significant growth with the entry of younger customers.
Combining the sleek lines of the coupe with the all-wheel-drive of a crossover, the QX30 concept is just as comfortable navigating city high streets as it is exploring weekend getaways in the countryside.
Roland Krueger, Infiniti president and CEO, said: "The QX30 concept foreshadows an entry in the premium compact segment that provides a stylish alternative to the existing offer in this segment.
"The vehicle embodies our conviction to give customers the freedom to go wherever they want, whenever they want in a style that turns heads and makes a statement, in a way that expresses their individualised character."