Infiniti V6 Named One of 10 Best Engines for 2017
13/12/2016 11:30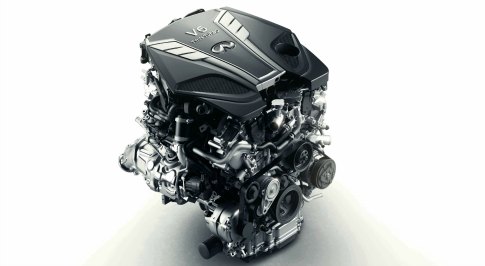 Infiniti V6 Named One of 10 Best Engines for 2017
INFINITI announced today that leading automotive publisher Wards have ranked the latest INFINITI 3.0 twin-turbo V6 engine as one of the "10 Best Engines" of 2016.
Designed around a direct-injection gasoline (DIG) fuelling system, INFINITI's V6 engine enjoys the greatest fuel economy and cleanliness of any INFINITI engine to date. Impressing the WardsAuto editors in the INFINITI Q50 3.0t with 400hp, these engines are offered by INFINITI in the Q50 sports saloon range and the newly-released Q60 sports coupe range alike. A high-performance variant of the 3.0t engine with 400hp and 350 lb-ft torque is available in Europe.
"The Q50's twin-turbo V6 puts INFINITI neck-and-neck with its German competitors," said Dave Zoia, WardsAuto editorial director. "Silky smooth, quiet when you want it to be and capable of delivering some pretty respectable fuel economy numbers. We're thinking the new VR engine just might be a dynasty in the making."
The comfort, luxury and security of the Q50's behind the wheel experience was further commended by WardsAuto, who declared it to be one of "Wards' 10 Best User Experiences". With particular praise paid to the Q50's array of driver support and assist systems such as Cross Traffic Alert, Predictive Forward Collision Warning and Around View Monitor with Moving Object Detection, the Q50 creates fluid, vibrant and immersive journeys that are enhanced by the vehicles' aluminium frames and exceptional engine build.
"INFINITI customers have a passion for driving and offering the new 3.0-litre twin-turbo V6 engine helps make sure we meet their high expectations," said Roland Krueger, president, INFINITI Motor Company, Ltd. "INFINITI is honoured to be named to this prestigious list of the most technically significant powertrains in the world by the experts at WardsAuto. We are on track for record global sales in 2016 and the exceptional engineering and performance of our engines have certainly played an important role in this success."