Limited edition Infiniti Q50 Sound Studio by Bose available from October
14/09/2015 14:32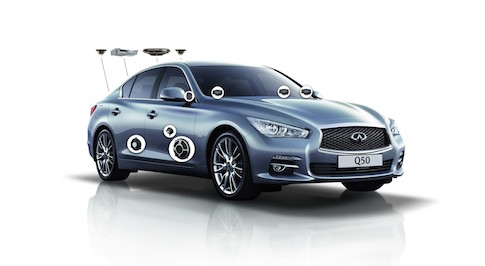 Limited edition Infiniti Q50 Sound Studio by Bose available from October
Following over 25 years of partnership with audio experts Bose, Infiniti has announced a new part of the pair's audio collaboration, the Infiniti Q50 sound studio by Bose.
Described as the 'ultimate music lovers car', the Q50 boasts several state-of-the-art features to offer an unrivalled listening experience for driver and passengers alike. The Bose Surround Sound system is linked with the latest DAB receiver so that even digital radio broadcasts can be enjoyed with the full power and richness of Bose technology.
Fourteen strategically placed speakers in the car deliver a highly precise and natural sound, which surround the vehicle's occupants and provide the impression of front row seat in a concert hall for a captivating 'listening experience.
Other Bose systems that operate inside the car include Active Sound Management Technology, which reduces unwanted powertrain noise and enhances desirable engine sounds and Bose AudioPilot2 Noise Compensation Technology that constantly monitors and adjusts music levels to compensate for vehicle speed and unwanted external sound.
The limited edition Infiniti Q50 Sound Studio by Bose will be available from next month. To power the luxury saloon, buyers can choose between a 2.0-litre turbocharged four-cylinder petrol with 211 PS and 350 Nm of torque or a 2.2-litre four-cylinder diesel with 170 PS and 400 Nm of torque.
by: Laura Thomson